11th July 2017 Content supplied by: Medical Wire & Equipment Co
Fecal Transwab® - MWE's 'Super Swab' That Ticks All The Boxes!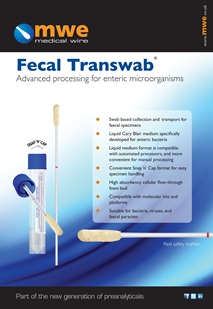 ✔ Culture ✔ Molecular ✔ Bacteria ✔ Viruses ✔ Parasites ✔ Automated processing ✔ Manual processing ✔ M40-A2 compliant
Fecal Transwab® is the "go to" liquid medium transport swab for faecal specimens. Originally intended for enteric bacteria, but already proven to be capable of much more.
Fecal Transwab® contains 2ml of liquid Cary Blair medium in a convenient plastic transport vial with screw cap. The set comes with a rectal swab (with cellular foam or flocked polyester fibre tip) which can be used to collect the specimen directly from the patient, or to transfer material from a faecal specimen pot. The swab features Medical Wire's "Snap 'n' Cap" system, so that the swab snaps safely into the vial, and is "captured" by the cap when screwed on, which also ensures that the swab is fully immersed in the liquid medium.
Medical Wire's liquid format has no agar, so that it not only gives excellent recovery using conventional culture testing, it is fully compatible with molecular platforms including bead based PCR systems. A recent study has demonstrated that Fecal Transwab® is fully compliant with CLSI's standard M40-A2 for the recovery of live enteric bacteria at ambient or refrigeration temperatures for at least 72 hours. In addition, numerous molecular studies have shown compatibility on a range of platforms for the accurate detection of enteric bacteria, including carbapenem-resistant Enterobacteriaceae (CRE), parasites and viruses, with for example, recovery of DNA after 112 days (ambient and refrigeration temperatures) for Campylobacter jejuni and Yersinia enterocolitica.
Check our website for full details or to request samples for evaluation.
Please note : Any products described on this page are for Research Use Only and not intended for clinical diagnostic procedures unless otherwise stated.
Tags:
Date Published: 11th July 2017
Source article link: View
Related news