15th July 2016 Content supplied by: FoodChek Systems
Fastest "Time-to-Results" with FoodChek's Actero™ Enrichment Media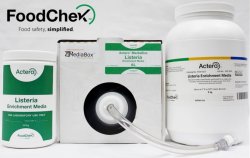 The patented Actero™ Listeria Enrichment Media ("Actero™ Listeria") was developed by FoodChek Systems Inc. ("FoodChek") and is specifically designed to provide the ideal growing environment for sublethally injured Listeria spp and Listeria monocytogenes ("L. mono").
Actero™ Listeria delivers reliable, accurate and fastest "Time-to-Results" detection in a variety of food and environmental samples. The samples require enrichment before pathogen testing to amplify or grow any existing bacterial pathogens for easy detection of Listeria.
Actero™ Listeria is validated by the AOAC Research Institute for testing in a variety of food and environmental samples for Listeria species and L. mono. The advantages of using Actero™ Listeria for your food safety monitoring program are:
Fastest "Time-to-Results" without compromising accuracy
Single step recovery and enrichment of Listeria that reduces cost per test in consumables and labour
Uses less enrichment media per volume compared to standard enrichment media and reduces the cost of consumables
Release your products in less than 24 hours to maximize production and work flow
Can be used with any downstream diagnostic system, which means a broader choice of technology and pricing
AOAC validated with frankfurters, shrimp, smoked salmon, spinach and queso fresco, as well as on stainless steel, plastic and sealed concrete surfaces
Internally validated with deli turkey, cured ham, ice cream, milk and raw fish
The media is available as dehydrated, ready to use liquid, ready to rehydrate in pouches or bespoke volumes; choose the format that fits your lab's workflow
Available globally through VWR, our international distributor
FoodChek is presenting a poster at IAFP 2016 titled "Fast detection of Listeria monocytogenes in deli meat and dairy products" that details how Actero™ Listeria greatly reduces enrichment times for Listeria detection in RTE deli meats and dairy foods.
The poster is based on FoodChek's recent validation studies using Actero™ Listeria combined with an RT-PCR detection device to develop and validate a sensitive and rapid method of L. mono detection in deli meat and dairy products.
Optimization studies resulted in a significant reduction of the enrichment phase of up to 18 to 22 hours for dairy products and 24 hours for deli meats. A total of 240 artificially contaminated samples (25 g each) were examined to evaluate the performance of the candidate method in comparison with the conventional FSIS-USDA (for cold smoked turkey and cured ham) or US FDA (for double chocolate ice cream and pasteurized milk) microbiological procedures.
Additionally, the efficacy of the method was evaluated with four other ice cream flavors that included vanilla, strawberry, caramel with pecan and cookie dough, as well as 375 g samples of double chocolate ice cream.
Please visit FoodChek's website at www.foodcheksystems.com or contact us at North America toll free 1-877-298-0208 to find out how our Actero™ Enrichment Media and our other pathogen testing products can improve your food safety program.
Tags:
Date Published: 15th July 2016
Source article link: View
Related news