23rd July 2018 Content supplied by: Autoscribe Ltd.
Environmental Monitoring Provides Early Warning of Endemic Listeria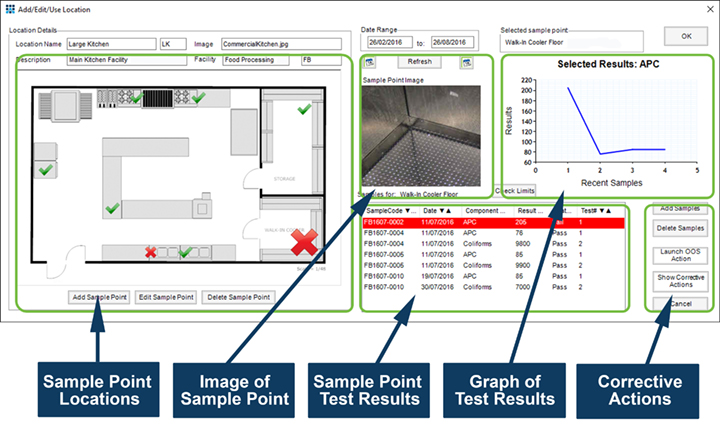 One of the most dangerous food-borne pathogens that food manufacturers must deal with is Listeria, the cause of listeriosis. Nearly everyone infected is hospitalized, with one in five people dying from the disease. Food manufacturers understand the importance of diligent cleaning, disinfecting and sanitizing of their storage, preparation and manufacturing facilities. However, keeping the entire processing plant free of Listeria and other contamination not only requires specific tools and procedures, but also a way of managing the sampling and testing regimes. The results of the testing must be monitored to identify any trends in contamination levels.Listeria contamination, for example, can occur throughout the facility, including in cold storage areas. If contamination takes hold stock in the supply chain is usually lost and the entire manufacturing plant may need deep cleaning, leading to lost production, lost stock and potential litigation costs of thousands to millions of dollars.
The Matrix Gemini Environmental Monitoring (EM) module from Autoscribe Informatics provides the required framework to document procedures, map the identified sampling points to the facility, define the sampling regime and record the results of environmental testing. Any required corrective actions can be identified and managed and the result trending features provide an early warning of potential contamination problems before they become violations. The Autoscribe EM module supports proactive problem prevention, not just problem detection; saving companies the headache of discovering a problem too late and allowing production and sales to continue uninterrupted.
Key Benefits include:
Encapsulates food safety/food sanitation monitoring best practices
Proves FSMA/HACCP food safety compliance and CGMP requirements
Links sampling point locations, test results and corrective actions
Underlying LIMS solution tracks samples and stores results, with complete version control
Trending analysis of results allows early detection of potential problems
Logs food safety actions with a complete audit trail
To avoid the potential of lost production, lost profits and lost brand reputation it is important to monitor your entire plant, incorporating food safety/HACCP requirements into your overall quality control regime. The Matrix Gemini Environmental Monitoring software solution supports companies in their ongoing drive for safety and quality.
To find out more about Matrix Gemini Environmental Monitoring and how you can avoid a call from the Food Standards Agency or US Food and Drug Administration please visit:
Tags:
Date Published: 23rd July 2018
Source article link: View
Related news