19th March 2013 Content supplied by:
Disposable Reagent Reservoirs - Low-cost, Stackable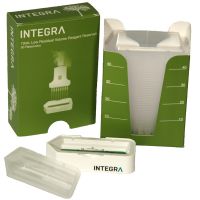 INTEGRA disposable reagent reservoir system uniquely combines low-cost, stackable, crystal clear polystyrene reservoirs with clearly marked, graduated and reusable bases. The reagent reservoir inserts have been designed to be stackable, making it possible for the reservoirs to be stored in half the space compared to alternative designs. INTEGRA VIAFLO reservoirs are both economically and environmentally friendly because users can reuse the reservoir base and only have to dispose of the reservoir inserts.
For further information including a technical brochure please vist www.integra-biosciences.com
Tags:
Date Published: 19th March 2013