21st November 2016 Content supplied by: R-Biopharm AG
Compact Dry YMR – Detection of Yeast and Mold in 48 – 72 Hrs!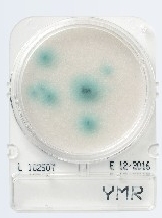 As of fall 2016, the new rapid detection test for yeast and mold: Compact Dry YMR – detection in 48 to 72 hours – is available from R-Biopharm!
Like the previous Compact Dry plates, this parameter is available in two package sizes: 100 tests (Art. No.: HS9801) and 40 tests (Art. No.: HS9802). This easy to use chromogenic culture medium plate is in a dry format, which can not only be used for food analyses but also for beverages and for surface sampling (in combination with wet swabs) and is based on the same color detection system as the Compact Dry YM (blue/blue-green colonies). Results can be read off after just 48 hours, which saves up to 5 days on the incubation period!
The new Compact Dry YMR allows food manufacturers to determine the status of the extremely critical parameter of total microbial fungi in food considerably faster. Particularly foods with a short shelf life can be released much faster, or remedial actions can be initiated in time before the production process ends.
Official validations compared to the respective standard detection methods (according to AOAC-RI, MicroVal, and NordVal) are currently being carried out.

Tags:
Date Published: 21st November 2016
Source article link: View