17th November 2014 Content supplied by: R-Biopharm AG
Compact Dry: Food Microbiology Made Easier!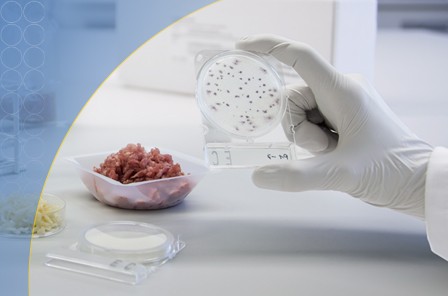 Demonstration video now online!
Compact Dry is a microbiological testing system which mainly consists of a special dry nutrient pad in a special designed petri dish. Compact Dry plates can be used everywhere at any time since their pads are not reconstituted before the sample implementation and are therefore stable at common temperatures for long periods of time. Chromogenic agents present in all Compact Dry media types enable easy counting of colonies after incubation.
The ready-to-use concept might help the operator to reduce the time which is normally needed to perform microbiological testing. Compact Dry therefore allows maximum productivity by increasing efficiency.
Compact Dry can be used to test raw materials as well as finished products like food, beverage, meat, cosmetic or other samples. They can also be used for surface swab samples or easy incubation of membrane filtered liquid samples.
In the meanwhile a range of different types for 13 different parameters is available. More than 60% of these parameters are approved according to ISO 18140 (MicroVal/NordVal) or AOAC-RI standards.
To help you better understand the features, possibilities and benefits of that innovative refurbishment of classical microbiology, we would like to present you a short but concise Video Guide on Compact Dry Products.
Please click on the following link to get directly to the video.
http://www.youtube.com/watch?v=q6hbvHOJIWs
For detailed information about special Compact Dry plate types, ordering or location of regional R-Biopharm representatives, please click on the "Request more information" button below.
Please note : Any products described on this page are for Research Use Only and not intended for clinical diagnostic procedures unless otherwise stated.
Date Published: 17th November 2014
Source article link: View