28th May 2018 Content supplied by: Cherwell Laboratories Ltd
Cherwell Achieves >20% Increase in Redipor® Sales to Overseas Distributors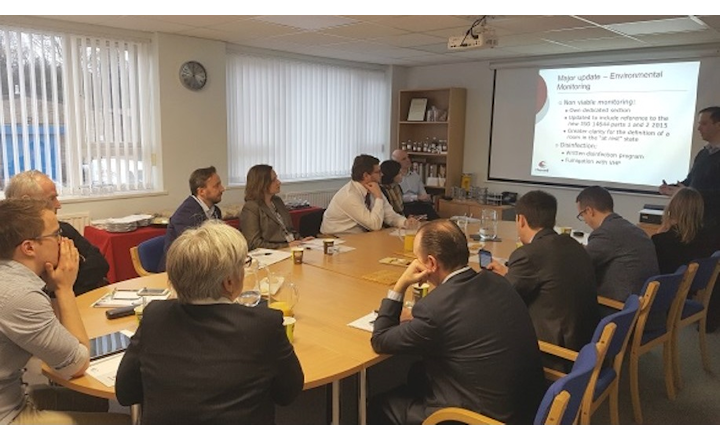 Cherwell Laboratories recently announced a 21% increase in Redipor sales to its distributors during its 2017/18 financial year. Cherwell's continuing growth in export sales, largely across Europe, can be attributed to renewed strategic focus on overseas markets, as well as the appointment of further distributors for the Redipor range. Already supported in Denmark, Italy, Northern Ireland, Poland and Slovenia; over the last three years, Cherwell has signed further distributor agreements with BioIng s.r.o. in the Czech Republic and Slovakia; Chemium Ltd in Hungary and ATS Korea in South Korea.
Cherwell is committed to offering the same benefits to its customers across Europe and has, therefore, carefully selected partners to act as Redipor distributors. These partners must demonstrate a good knowledge of the needs of the pharmaceutical and related industries, and also understand microbiology. They must likewise place customer service at the core of their business and be willing to support customers with flexible solutions. With this ethos in mind, Cherwell is delighted to announce it has signed its latest distributor agreement with Alphachim Ltd in Bulgaria.
Alphachim Ltd is a specialist distributor of laboratory equipment throughout Bulgaria. Operating out of Sofia, it supplies laboratory chemicals, glassware, consumables, equipment, such as water baths and balances, protective equipment and now Redipor® prepared media. The new distributor's warehouse stocks over 3000 items, allowing for fast delivery of many products. Alphachim is committed to supplying the highest standard of product, with the best possible service, through an experienced and knowledgeable team.
Andy Whittard, Managing Director, Cherwell Laboratories commented, "We have been working with Alphachim during 2017 on an informal basis and during this time they have demonstrated a desire to grow their business. They have also already sold Redipor products into one of Bulgaria's main pharma companies, demonstrating they understand and have access into our key market. We look forward to continuing to build a successful relationship with the Alphachim team."
Cherwell's Redipor range is mainly focused on the needs for environmental monitoring (EM), sterility testing and operator and process validations in pharmaceutical and related industries. The high-quality prepared media range includes petri dishes and contact plates, plus bottled media, broth bags and ampoules.  As such, the main products supplied are based on Tryptone Soya Agar for general EM work, neutralising agars for surface testing and Tryptic Soy Broth for sterility testing or process validations. Specific customer formulations, such as specialist neutralising media and agars supplemented with Penicillinase and ß-Lactamase, together with alternative packaging, can be supplied.
Enabling the successful outsourcing of prepared media supply, all Redipor products are subjected to a full array of QC tests, including comprehensive growth tests, with detailed QC certification supplied for every batch.  Its flexible production methods and managed stock levels allow Cherwell to deliver cost-effective, in-time solutions for both large and small customers alike.
For more information about Cherwell Laboratories, please visit www.cherwell-labs.co.uk, follow @CherwellLabs on Twitter or follow on LinkedIn
Tags:
Date Published: 28th May 2018
Source article link: View
Related news