27th February 2017 Content supplied by: The Baker Company
Can Your Lab Afford to Keep Using Gas Jars?
Most microbiology lab managers and PIs purchase jars to run experiments, rather than purchase an anaerobic workstation. The up-front cost to use jars is low compared with a workstation, and since the jars can be reused for years, it is common to assume that they are cheaper over time as well. But have you considered the cost of consumables?
Unit prices for gas packs and anaerobic indicator strips are relatively inexpensive, but when you run a high volume of jars each week, these costs can really add up. But what is a "high volume?" At what point can your lab save enough on consumables to pay for the cost of a workstation over time?
The infographic shown below can help you decide if an anaerobic workstation is right for your lab. Find the number of jars your lab runs each week, and check the corresponding bar to learn whether using jars makes good financial sense - or whether you should ditch your jars all together.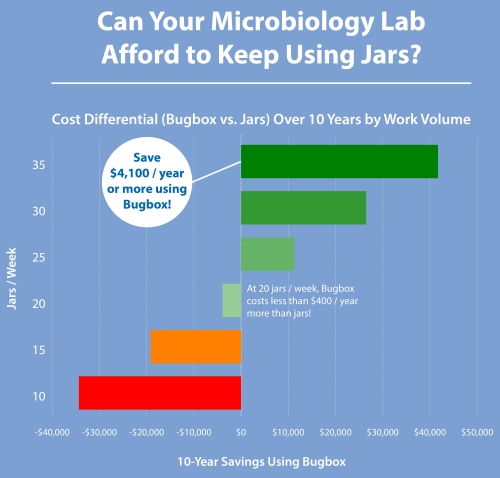 When you consider a workstation's space-saving convenience and a tightly-controlled, continuously-anaerobic atmosphere during incubation, your lab may benefit from a workstation even if you need to pay a little more each year - say, a few hundred dollars.
Ruskinn Bugbox anaerobic workstations are designed specifically to help microbiologists cope with rising workloads and provide the best primary isolation rates.
Key Features and Benefits of the BugBox include:
Easily read plates without exposting them to oxygen with the Ezee Sleeve™ gloveless port system
Perfect illumination with energy-saving lighting
Compact size can fit into even the smallest laboratory
Precisely controlled environment with adjustable temperature and humidity ensures conditions are optimal for cell growth, with no dry spots.
Economical when compared with anaerobic jars, Bugbox has a lower cost per plate, and provides a more reliable, stable atmosphere.
As a pioneer in developing controlled atmosphere and oxygen regulated solutions, Baker Ruskinn strives to push the boundaries, once again responding to the needs of users, while bringing the latest in technology and user-driven features to a range of products. Baker and Baker Ruskinn products, developed by scientists… for scientists.
Please note : Any products described on this page are for Research Use Only and not intended for clinical diagnostic procedures unless otherwise stated.
Date Published: 27th February 2017
Source article link: View