23rd April 2018 Content supplied by: Bruker Corporation
Bruker Introduces Bologna Workflow for ID and AMR Positive Blood Cultures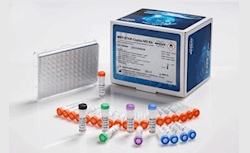 At ECCMID 2018, Bruker introduced new diagnostic workflow solutions for rapid and cost-effective microbial identification and antibiotic resistance testing from positive blood cultures – called the integrated Bologna Workflow.
Bruker also launches additional molecular assays for comprehensive and fast invasive fungal disease (IFD) testing in blood, without the need for any culturing step.
New CE-IVD Fast Sepsityper® solution: - for MALDI-Biotyper (MBT) identification (ID) of over 2,700 microbial species - from positive blood cultures with less hands-on time;
Novel CE-IVD MBT STAR®-Cepha kit: - for rapid, functional antibiotic resistance testing against Cephalosporins - complementary to existing MBT STAR-Carba kit for fast Carbapenem-resistance testing - all integrated in 60-90 minute cost-effective Bologna Workflow;
Further expansion of MBT Library: - for clinical microbiology (CE-IVD) and filamentous fungi (RUO)
New fast PCR assays for Invasive Fungal Disease (IFD) testing directly from blood without culture: - Fungiplex® Universal (RUO) kit for rapid detection of fungal DNA - Fungiplex® Aspergillus Azole-R kit (CE-IVD) for Azole-resistance testing in Aspergillus - complementary to existing Fungiplex Candida and Fungiplex Aspergillus CE-IVD kits for ID;
For more information visit www.bruker.com/news
Please note : Any products described on this page are for Research Use Only and not intended for clinical diagnostic procedures unless otherwise stated.
Tags:
Date Published: 23rd April 2018
Source article link: View