2nd December 2014 Content supplied by: Island Health
Hospital Starts Using BD Kiestra™ Total Lab Automation System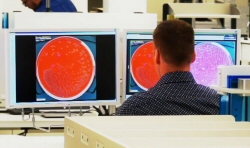 The first totally automated microbiology laboratory in a North American hospital will begin testing patients from across Island Health at Royal Jubilee Hospital on December 8, 2014.
Able to run twenty-four hours a day, seven days a week, the microbiology laboratory will produce faster results on the cause of patients' infections, helping the care team provide the best treatment sooner.
"This new innovative technology shortens the time to get vital clinical information that helps providers make decisions about a patient's care. The equipment's standardized processes will eliminate errors and give us more reliable results," said Dr. Brendan Carr, CEO of Island Health.
The laboratory system, manufactured by BD Kiestra, was installed at a cost of $4.3 million, which was cost-shared with the Capital Regional Hospital District. The microbiology laboratory at Royal Jubilee Hospital tests about 500 specimens a day from all across Island Health, with demand increasing every year. The lab automation will allow more tests to be done faster, without increasing staff, which helps address a looming shortage of laboratory technologists being faced across Canada.
The new laboratory equipment from the Netherlands was delivered and installed in late August, and staff training and testing has been taking place since September.
For more information, view the video: http://vimeo.com/112413551
Tags:
Date Published: 2nd December 2014
Source article link: View