11th February 2016 Content supplied by: R-Biopharm AG
Application Note: Using Compact Dry for Microbial Testing of Cosmetics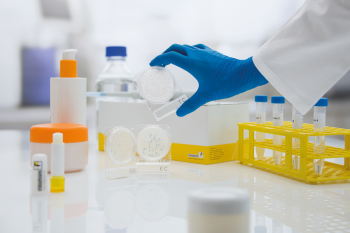 Since the launch in 2013 of the Compact Dry range (a dry nutrient film in a disposable plate which is rehydrated by addition of the test sample), the user manuals have indicated that the product is also suitable for the detection of microorganisms in cosmetics and personal care products.
R-Biopharm have received numerous inquiries asking whether there are special regulations when preparing cosmetic samples for application onto the Compact Dry plates (such as how to be in compliance with "Microbiological Quality Management (MQM) of cosmetic products"), or whether it is possible to apply the same sample preparation procedure described in the instruction manuals for preparing food to the preparation of cosmetics.
Due to the high fat content and the solid consistency of most cosmetics, instructions for the preparation of food samples cannot be followed when testing cosmetics. Therefore, R-Biopharm have specially developed and tested a protocol that can be used for the testing of various cosmetics for Total Counts, E.coli/Coliforms, Coliforms and Staphylococcus aureus, complying with the MQM regulations.
The new document "Compact Dry – Application for Cosmetics" is now available on request from R-Biopharm. To receive your copy please email to info@r-biopharm.de or use the 'Request More Information' button below.
Tags:
Date Published: 11th February 2016