Affordable Benchtop 1536-well Pipetting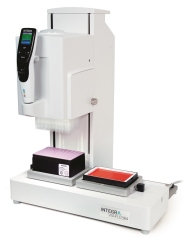 INTEGRA has introduced a new plate holder enabling 1536-well pipetting on its VIAFLO 384 electronic handheld pipette. This introduction provides screening labs with a unique alternative to the complexity and cost of fully automated robotic liquid handling systems. The VIAFLO 384 is the only benchtop pipette on the market, which allows easy and precise pipetting into 1536 well plates.
To watch a video on 1536-well pipetting on the VIAFLO 384 please visit www.integra-biosciences.com/sites/video/1536-well-Plate-Holder.html.
For further information on the VIAFLO 384 please visit www.integra-biosciences.com/sites/96_384_channel_pipette.html
Tags:
Date Published: 8th November 2016