12th November 2013 Content supplied by:
Acquisition, Transmission, Processing - Get Ready for Flu Season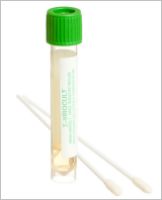 As winter takes hold, at least in the northern hemisphere, the prospect of another busy influenza season looms. Good uptake of vaccines has helped in recent years, but it remains a challenge. Proactive surveillance is essential to detect the spread of known strains, and any emerging novel strains.
An effective surveillance programme has many elements, from the identification of at risk populations, as well as potential carriers, acquiring the appropriate clinical material, and having it tested in facilities which can not only identify known strains, but also diagnose the involvement of unknown or novel strains.
The essential link in all of this is the specimen. There are three key stages in the handling of specimens:
Acquisition. The specimen must be taken from the appropriate body site, and consist of sufficient material to contain representative markers or live organisms to allow identification.
Transmission. The transport system must be capable of maintaining viruses in a viable and stable condition for the duration of the transport phase, and in whatever conditions, including temperature, it takes place. Processing. The specimen must be adequately released into whichever medium or system is to be used for testing and characterisation.
∑-Virocult®(Sigma-Virocult®) fully meets all these requirements for the diagnosis and monitoring of influenza, and other respiratory viruses including RSV, Rhinovirus, and Adenovirus. Sets are available with up to 3 swabs for the sampling of multiple sites. The swabs have a supersoft highly absorbent polyurethane foam bud which is gentle for sampling from sensitive or inflamed areas.
Transport takes place in our own Virocult medium, known and trusted for many decades. The system has been validated in accordance with CLSI's M40-A1 standard for the recovery of live virus, including influenza virus for 96 hours at both room and refrigeration temperatures, while additional studies show that nucleic acid materials are preserved intact for at least 14 days.
Processing. ∑-Virocult® is fully compatible with cell culture and molecular testing systems. A recent study with ∑-Virocult® has shown successful recovery and RT-PCR testing of the current strain of interest, Influenza A H7N9 virus.
∑-Virocult® is supplied as a complete sterile transport device for virus specimens. The swab consists of a cellular polyurethane foam bud on a plastic shaft with breakpoint. There is a choice of swab shafts and buds for all specimen types. The regular defined cellular structure of the foam material ensures optimum absorption and release of the specimen, with complete access for all reagents for full test sensitivity. The collection tube contains Virocult® liquid medium, and has a screw cap with integral swab capture.
∑-Virocult® is CE-marked, and FDA -approved, and is the device of choice for safe recovery of viral specimens over extended periods whether refrigerated, or under room temperature conditions.
It is always vital to ensure adequate stocks of Sigma Virocult® are maintained. Our production teams are very capable of responding quickly to any surges in demand. However it is important you are always prepared with adequate stock for that initial phase should such a surge occur. 1. CLSI, 2003, Quality Control of Microbiological Transport Systems: Approved Standard NCCLS Document M40-A
For full details of Sigma-Virocult® please visit: www.mwe.co.uk
Please note : Any products described on this page are for Research Use Only and not intended for clinical diagnostic procedures unless otherwise stated.
Tags:
Date Published: 12th November 2013
Related news