12th December 2016 Content supplied by: Bio-Rad Laboratories, S.A.
A New Approach to Rapidly Identify Salmonella Typhimurium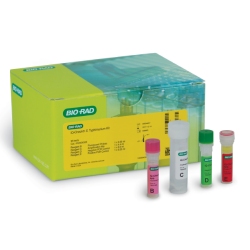 According to the EFSA Journal 2015, 13(12):4329, "The two most commonly reported Salmonella serovars in 2014 were S. Enteritidis and S. Typhimurium, representing 44.4% and 17.4%, respectively, of all reported serovars in confirmed human cases". The impact of those Salmonella serovars on human health has led to the implementation of regulations or improvement guidelines in Europe, in Brazil and in the United States.
Today, getting quick and accurate results for food pathogen screening and confirmation is a key goal for food safety organizations. Bio-Rad is pleased to participate and contribute to this effort by introducing the new iQ-Check® S. Typhimurium Real-Time PCR kit.
In addition to the current iQ-Check portfolio, including the iQ-Check Salmonella spp. and iQ-Check S. Enteritidis kits, this new parameter allows laboratories to quickly screen for and identify the presence of S. Typhimurium in samples. It can be used to easily confirm any presumptive positive Salmonella spp., from enriched broth, from isolated colonies or from the migration front on MSRV. This approach reduces the typing time from a few days (for the traditional Kauffmann and White typing method) to less than 2 hours. The new iQ-Check S. Typhimurium method shows 100% inclusivity, including S. Typhimurium monophasic variants, leading to an unambiguous and rapid identification.
This new approach for S. Typhimurium detection is fully compatible not only with the iQ-Check Salmonella spp. method, but also with the iQ-Check Prep automation system.
Product available in 2017.
For more information visit bio-rad.com/iqcheck
Please note : Any products described on this page are for Research Use Only and not intended for clinical diagnostic procedures unless otherwise stated.
Tags:
Date Published: 12th December 2016
Source article link: View
Related news