Microbiology News : water, Dec 2019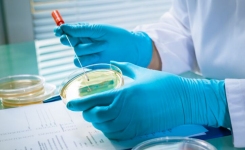 A rapidmicrobiology.com report on the recent SCI event 'Rapid Confirmation Using MALDI-TOF III', presentations are summarised to convey how each presenter has advanced into this new era of real-time food and water microbiology after implementing MALDI-TOF technology in their laboratories.
more...
Save money and reduce plastic laboratory waste by sterilizing reusable stainless steel inoculation loops, the SteriMax is an infrared loop sterilizer, giving high-speed annealing and sterilizing without flame.
more...