New and Emerging Methods in Microbiology Workshop, Ireland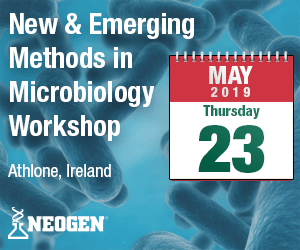 : 23 May 2019
: Athlone Springs Hotel, Athlone, Co. Westmeath,, Ireland
Sector: Food & Beverage
Type: Workshop
Do you have an interest in the latest advances, news and trends in microbiology? Would you like to network with like-minded individuals?
Neogen has announced the next two dates in its series of "New & Emerging Methods in Microbiology" workshops. Perfect for commercial labs and food industry professionals, the events bring together a range of expert speakers to share knowledge and experiences.
Dates for your diary
Thursday, May 2, 2019 — Cambridgeshire, United Kingdom
Learn about a range of topical issues from environmental monitoring to innovative testing methods and 16S Metagenomics (Next Generation Sequencing).
View the full agenda and register to attend here
Thursday, May 23, 2019 — Athlone, Ireland
Gain an understanding of ISO 16140-2 validations to help choose methods that will fit your needs. Get interactive with live demonstrations on the latest testing methods.
View the full agenda and register to attend here
With two fantastic opportunities to broaden your knowledge and keep up-to-date with what's happening,don't delay and register today  The events are free to attend spaces are limited. To find out more please visit: https://blog.neogen.com/attend-neogens-microbiology-workshops-this-may/. 
Details

Venue
Athlone Springs Hotel, Athlone, Co. Westmeath,
Ireland
Organizer