Lower Risk Microbial Monitoring in Isolators
The effective microbial monitoring of pharmaceutical Isolators presents specific challenges, mainly regarding retaining cabinet integrity. Typically, portable hand held units are repeatedly introduced into each Isolator as and when samples are required to be taken. This process presents potential risks as care must be taken to thoroughly clean the unit before introducing it into the Isolator. Alternatively, costly disinfection cycles must be run before sampling can commence.

Other sampling systems are located externally and sample air from within the Isolator. These systems require sophisticated control measures to maintain the cabinet integrity and can be expensive.

The SAS Super Isolator is a specialist version of the proven hand held portable units specifically aimed at microbial monitoring of pharmaceutical Isolators. The proven SAS method of sampling is retained and offers compatibility with hand held units used for any background room monitoring.

The SAS Super Isolator sampling head is located within the cabinet. This part is stainless steel and compatible within disinfection systems such as VHP. The control unit including power source is located externally. A simple power connection is made using high quality pressure and vacuum rated connectors which retain cabinet integrity. The control unit can also be used with more than one sampling head so offering flexibility and lower capital investment for multiple Isolators.


SAS Super Isolator Schematic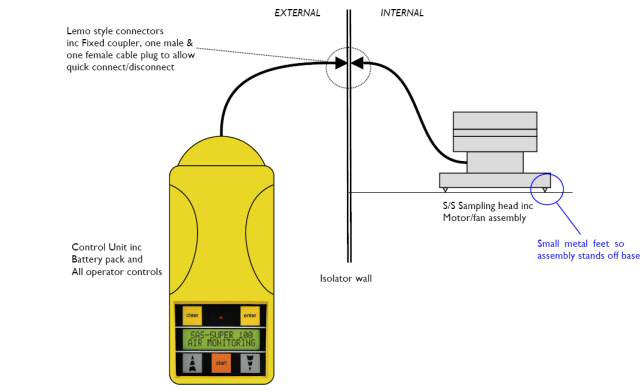 The SAS Super Isolator is part of the SAS family of microbial air sampling solutions, including the SAS Super 180 which samples a cubic metre in less than 6 minutes. The range also includes the twin headed SAS Duo 360, the SAS Pinocchio Super for compressed air monitoring and the Multi-SAS, a facility based multi room monitoring system.

A full range of irradiated prepared media is available from Cherwell for use with the SAS air samplers. The Redipor range includes Petri dishes, contact plates, broth in vials, bags and ampoules.


NOTE: This item is from our 'historic' database and may contain information which is not up to date.