High Performance Culture Media Plates - Room Temperature Storage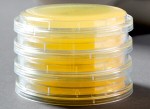 bioMerieux has announced a new innovation for environmental control, with the Count-Tact 3P Pack+ and the TSA 3P Pack+ products.

These high performance, ready-to-use culture media for rapid detection of clean room isolates, can be stored for their whole shelf-life at room temperature.

Conventional culture media for environmental control, such as contact plates or settle plates, need to be stored at 2-8°C to ensure optimal product performance. The 3P Pack+ range is unique because it can be stored at room temperature, from 2-25°C, and retain the same level of performance as media stored at 2-8°C. The new range gives customers in the pharmaceutical industry the flexibility of storing the plates closer to the sampling point in their facility or using their current cold rooms.

'Bringing innovation to environmental control is a strategic focus for bioMerieux Industry, We made significant investments in R&D and manufacturing processes to achieve our goal of providing improved flexibility and ease-of-use to our pharmaceutical customers.,' said Alexandre Merieux, bioMerieux Corporate Vice President, Industrial Microbiology.

The 3P Pack + range complements our global environmental monitoring solutions which include the air sampler airIDEAL® 3P™, the Quantiswab™ and the other pharmaceutical culture media.

bioMerieux has extensive experience in developing and manufacturing culture media. Produced with a proprietary process and packaging, 3P Pack+ plates are triple wrapped and irradiated to meet the needs of the pharmaceutical industry for use in critical clean room environments. The packaging has been designed to strongly reduce the level of moisture after potential thermal shocks during shipment.

NOTE: This item is from our 'historic' database and may contain information which is not up to date.