No Frills Autoclaving from Priorclave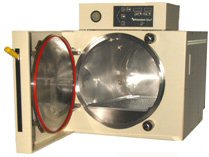 With the international launch of their new OPAL range of laboratory autoclaves Priorclave aim to provide a low-cost alternative to the increasingly sophisticated and complex equipment generally available in the market.

This entry-level, four option range starts with a 35L Bench-top model and includes 55L and 95L top loading models. A 125L Bench-top model with optional mounting stand completes the range.

They have been specifically designed to perform everyday laboratory autoclaving functions such as growth media preparation and laboratory waste sterilisation. It is intended to enable laboratories, with a more basic need, to perform these operations within their own laboratory to specific requirements, without unnecessary expenditure on additional functions and control systems often fitted as standard on today's autoclaves, for more exacting procedures.

All autoclaves in the range feature automatic free steaming and a thermal safety lock and are managed by a slimmed down version of Priorclave's tried and tested TACTROL microprocessor control system. They will operate up to 138°C - 2.4 Bar.

The models are based around Priorclave's existing product range and so are fully compliant and CE marked in accordance with the European Pressure Equipment Directive (97/23/EC) and other relevant directives and standards.

NOTE: This item is from our 'historic' database and may contain information which is not up to date.