Maximise Productivity using 384 Well Plates with the Worlds First 64-Channel Pipette.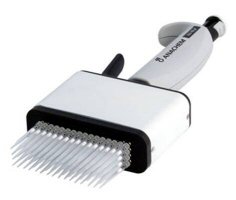 Minimise Set Up for Time Sensitive Techniques

Now you can simultaneously pipette 64 samples within the volume range of 0.5-10µl with the new 64 MultiPipette, available from Anachem. This new tool follows on from the highly successful 16 channel pipettes and is indispensable for all 384 well liquid handling, including PCR and microarray techniques.

64 MultiPipette is a worlds first in pipetting and enables transfer of a large number of samples within a short period of time, reducing workload. It also prevents delays in reaction set up which can be critical for time sensitive experiments. Permitting a simultaneous start of multiple reactions makes this 64 Channel Pipette essential for comparative studies involving kinetics, such as microarray techniques. A special holder is available to aid safe and precise pipetting onto microarray chips.

In addition to the new 64-channel pipette, Anachem also now offers a 48-channel pipette alongside the original 16-channel model, that covers volume ranges from 0.2 up to 50ml to suit a range of experimental needs when using 384 well plates.

Anachem is the leading specialist distributor to the U.K. & Irish scientific communities with over thirty five years of technical expertise and innovation. Today, Anachem represents suppliers such as GE, Gilson, Munktell, Rainin, SSI and Treff, to provide world renowned manual liquid handling products, plastics and consumables backed by unprecedented quality of service and support.

NOTE: This item is from our 'historic' database and may contain information which is not up to date.