Food Microbiology Testing Shows Healthy Growth
Industrial diagnostic companies competing in the food sector will continue to face exciting but turbulent times in the coming few years, according to a new report from Strategic Consulting, Inc., a leading knowledge resource for the industrial diagnostics industry.

In its new report, Food Micro, Fifth Edition: Microbiology Testing in the U.S. Food Industry (Food Micro-5), Strategic Consulting (SCI) tracks changes to microbiology testing practices as the U.S. food industry strives to produce safe and wholesome foods in an increasingly global market. According to the report, new regulatory requirements and heightened public concern about food safety issues have increased concern and testing in the food sector: In 2010, 213.2 million microbiology tests were collected in the US food processing industry, a 14.4% increase since 2008.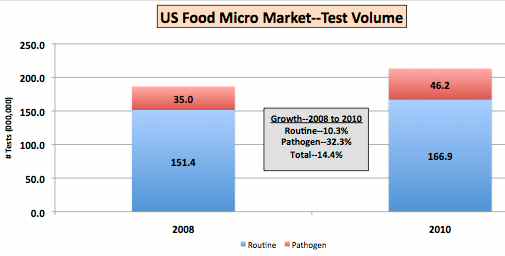 New regulations and public demand for safe food grow test volume in food processing, and competition among industrial diagnostics companies.

'After a decade of solid but quiet growth, the microbiology testing requirements of the food processing industry have been thrust into the public spotlight again, driving healthy growth in food diagnostic testing,' says Thomas Weschler, president of SCI and lead author of Food Micro-5. 'Given the opportunities in this market, strong industrial diagnostic companies prone to action should do well,' he says.

Food Micro-5 examines the market, methods, technologies and key companies involved in microbiology testing in the food processing industry. Primary research was conducted with more than 100 food processing plants producing a broad range of products in the meat, dairy, fruit/vegetable, and processed food segments. SCI also contacted many of the senior quality and food safety officers at the top-30 food companies in order to include both the strategic and the operational perspective on the U.S. food processing industry.

TVO, Coliform/E. coli, Yeast/Mold, and Staphylococcus are the routine microbiology tests that are generally used in the food processing industry as indicators of microorganisms in the plant or food product. The test volume for routine/indicator organisms went up by just over 10% between 2008 and 2010. During that same two-year period, however, testing for specific pathogens such as Salmonella, Listeria, Campylobacter, and E. coli O157 increased by more than 30%.

'While food companies make continuous investments in food safety improvements, new regulations and public demand will drive even more testing, and as a result, new diagnostic technologies and companies are entering the market,' Weschler says.

Weschler notes that price competition appears to be rising however, with many food company QC managers citing cost-containment pressures on microbiology testing. The competitive field for diagnostics companies also continues to change through a combination of acquisitions, partnerships, and new product developments. 'Price competition, increased food company buying-power and product switching, among other factors, will force a continued industry shake-out and consolidation,' Weschler says.

Food Micro-5 includes more than 180 pages of data and analysis giving both a broad overview of the microbiology food testing market as well as a detailed analysis on specific trends. Method and testing information on ten different organisms is provided along with a detailed analysis of food segment variation in methods and products. Projections for test volumes and market value through 2015 are included. Eighteen key diagnostics companies are profiled.

Strategic Consulting's long tenure in the industrial diagnostics industry includes the publication of 13 market research reports addressing critical market topics over the last 15 years. Every SCI publication incorporates new primary research, interviews of industry and regulatory experts, analyses of current and emerging trends, market size projections, and a thorough review of competitors. Written in an easy-to-read style with clear data and graphs, Strategic Consulting market reports are designed to help make sound business decisions.


For more information on Food Micro, Fifth Edition, visit www.strategic-consult.com, email info@strategic-consult.com, or call +1 (802) 457-9933.

NOTE: This item is from our 'historic' database and may contain information which is not up to date.