Bacterial Colony Counting By Color Digital-Camera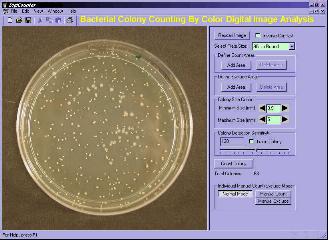 The new high-resolution digital camera DigiCounter

(TM)

System from Giles Scientific automatically and instantaneously reads and counts bacterial colonies on 90 to 150 millimeter diameter plates.

This Windows-PC based system is plug-and-play and easier to use than other systems. It can be setup and running in minutes and provides total flexibility to set numerous counting parameters. Parameters can be set, tested and adjusted until the counting is exactly as required; then the format can be saved for re-use. DigiCounter

(TM)

saves 95% of reading time and eliminates subjective variation and transcription errors. It has numerous applications in water, food, feed, cosmetics, pharmaceuticals and research testing.

The smallest detectable bacterial colony is 0.1 mm with smallest colony discrimination of 0.15 mm with sub 0.1 mm resolution available. Counts can discriminate touching colonies, include and or exclude areas, and manually include and exclude colonies. The user may adjust colony color, size and count limits and size-distribution. The DigiCounter

(TM)

digital image has 1024 x 1024 pixels with true color.

Contact Giles Scientific for a Quick-Tour demo program and information.
NOTE: This item is from our 'historic' database and may contain information which is not up to date.