RiboFlow® Biomolecular Detection System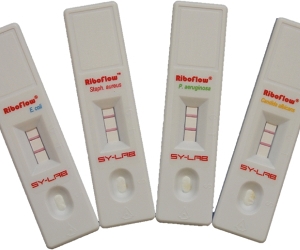 Principle: Lateral flow hybridisation technology
Automation: No
Approvals: Microval ISO 16140-2 (2016)
Suitability: Biomolecular detection system for a big variety of pathogenic and indicator microbes.
Capital equipment required: No
Description:
SY-LAB´s RiboFlow® technology signals relevant bacterial food contamination on-site—early, quickly, and reliably reducing the need for sophisticated sampling and amplification techniques.
No gels, No expensive machines, No inconclusive and difficult to interpret results. Fast, easier, and more affordable than conventional molecular tests.
Test devices for Listeria monocytogenes, Listeria spp, Salmonella, Cronobacter, Campylobacter, Alicyclobacillus, E.coli, Enterobacteriaceae, Pseudomonas spp, Pseudomonas aeruginosa, Staph. aureus and Candida albicans available
Key Points:
Biomolecular test system
only replicating cells detected
no amplification reactions necessary
specificity comparable to PCR
no expensive instrumentation necessary
used with liquid enrichments or colonies from plates
short assay time (apprx. 25 min)
single tests can be performed
long product shelflife at ambient storage temperatures