22nd February 2016 Content supplied by: Alpha Laboratories Ltd
New Tacta Pipettes Ensure Optimal Care for You and Your Science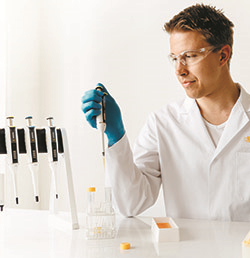 The New Tacta premium pipette range, now available from Alpha Laboratories, has been carefully designed in response to user requirements for an extremely high performance, reliable and ergonomic instrument. Tacta is so light and comfortable to use and has so many features to help make pipetting that much easier. It meets the most demanding pipetting requirements, delivering consistent and accurate results time after time whilst providing optimal user safety and experience.
Tacta rests lightly in your hand, thanks to its ergonomically designed handle and finger hook, for a relaxed hold that feels great. Effortless to use, it eases your workload and protects you from strain, even when pipetting for extended periods. The complete pipetting cycle is made easier with Tacta, from Optiload spring-loaded tip cones for perfect tip sealing with minimal force, to exceptionally low aspiration and dispensing forces through to the new Optiject soft release, levered tip ejection.
You can always be sure you are using the right volume with Tacta's large four digit display that is easy-to-read, even when the pipette is angled. Plus, Optilock volume adjustment prevents accidental volume changes during pipetting, yet makes required alterations quick and simple using one or both hands.
With Tacta, pipette maintenance has never been easier. It is fully autoclavable without disassembly and is the quickest and easiest pipette to clean, with only three parts to be disassembled and no tools required. Tacta is very simple to adjust, for various types of liquids, using a key and scale that shows the degree of adjustment required. By noting this value for a specific liquid, you can return to that setting at any time. Easy calibration adjustment ensures accurate results with a variety of liquids every time.
For a refined pipetting experience choose Tacta, a member of the Sartorius Biohit family.
See the difference – watch the video at www.alphalabs.co.uk/tacta Feel the difference – request a demonstration in your laboratory, email: marketing@alphalabs.co.uk
Please note : Any products described on this page are for Research Use Only and not intended for clinical diagnostic procedures unless otherwise stated.
Tags:
Date Published: 22nd February 2016
Source article link: View