Limulus Color KY Series Can Detect Endotoxin to 0.0002EU/ml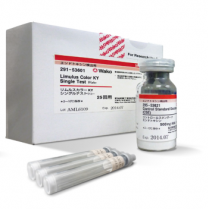 The Limulus Color KY Series includes both a multi-test kit containing 60 tests and a single-test kit containing 25 tests, each designed for time-based colorimetric analysis, using a synthetic substrate which produces a yellow color and can specifically detect endotoxin with high sensitivity.
The reagent is based on the color development mechanism, which is activated by the presence of endotoxin. First, a series of activations of serine protease precursors in the reagent occur, consequently triggering the final reaction, in which a clotting enzyme hydrolyzes the chromogenic substrate to release a yellow chromogen (pNA).   Since (1→3)-β-D-glucan, when not present in high concentrations, has also been found to activate the LAL, Wako has incorporated a large amount of (1→3)-β-D-glucan into the Limulus Color KY reagent so that the activation by (1→3)-β-D-glucan is completely inhibited and therefore allows the endotoxins to be specifically assayed.
Product features
Avoids false positive results
Available in multi-tests vials or single-test vials
Quantitative KCA reagent (kinetic-chromogenic assay) reagent
KCA assays can be performed in tube reader or microplate reader
KCA quantitative range detection limit of 0.0002 Eu/mL (single-type) and 0.0005 Eu/mL (multi-type).
Available with matched control standard endotoxin (CSE)
Tags:
Date Published: 16th April 2015
Source article link: Wako Chemicals USA, Inc.