16th December 2014 Content supplied by: SMi
Keynote: Mould Contamination in Pharmaceutical Drug Products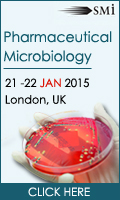 Phil Duncanson, Director of QC & Microbiology at MedImmune will provide a keynote presentation on: Mould Contamination in Pharmaceutical Drug Products at SMi's 4th annual Pharmaceutical Microbiology conference, taking place on 21 - 22 Jan 2015 in London, UK.
When asked what attendees would take away from his talk he said: "They will benefit from my experiences trying to diagnose the source of mould in a clean room facility. They will have a fresh perspective on what it takes to remediate a facility with mould recovery issues"
On what he believed the most interested topics were for next year he commented: "There is a lot of noise in microbiology right now around stressed microorganisms; how to stress them and when to use them, so I'm very interested in the stressed and objectionable organism's session. I'm also interested in the risk assessment presentation from Tim Eaton as applying patient risk to aseptic manufacturing can be a complex subject."
The full interview is available to read in the event download centre.
SMi's Pharmaceutical Microbiology 2015 conference will bring together an expert and highly accredited speaker line up including over 10 pharma speakers who will spotlight on topical areas such as microbial risk assessment, biofilms in water, sterilisation and validation processes, bioburden control, technological advancements, DNA-based sequencing methods and rapid microbiology methods.
Pharmaceutical Microbiology 2015 will provide attendees with the opportunity to, look for solutions for controlling outbreaks, learn from product recall case studies, explore sterile process validation requirements in submissions or evaluate microbiology within the manufacturing process. Furthermore, this event will draw from expert opinions, showcase the latest technology and inform attendees of new strategies and best practice in the prevention, detection and management of microorganisms.
Tags:
Date Published: 16th December 2014
Source article link: View