3rd June 2016 Content supplied by: Tecan Group Ltd.
Easier Set Up and Miniaturization of qPCR Reactions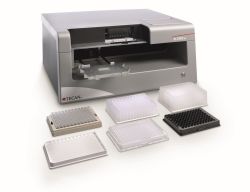 Tecan is making it easier than ever before to set up and miniaturize qPCR reactions. In direct response to customer requests, the company has launched an updated software package for its D300e Digital Dispenser, offering new functionality and extending this innovative device's flexibility for genomics workflows.
The D300e provides picoliter to microliter non-contact dispensing of liquids directly into assay plates, and the software now features a PCR Wizard that guides the user through qPCR set-up. Offering accurate and reproducible plate generation, the exceptional low volume dispensing capabilitiy of the D300e provides a convenient solution for the miniaturization of qPCR assays, allowing up to a five-fold reduction in assay volumes without any loss of data quality. Simplifying workflows and significantly saving reagent costs, this major step forward for qPCR is complemented by a range of other user-driven software updates. These include the ability to use the instrument's high capacity D4+ cassette for reagent dispensing – increasing the capacity from 10 μl to 200 μl for small molecule and biomolecule dispensing – and the addition of a number of new fluid classes, as well as extra normalization options.
Dr Manuel Bauer, Product Manager for the Tecan D300e, commented: "We are extremely pleased with the latest developments of our software. These new options ensure that the D300e continues to provide the most flexible low volume dispensing solution on the market, helping our customers to get more done, more quickly, and without any changes to either the instrument hardware or consumables."
For research use only. Not for use in diagnostic procedures
To learn more, visit www.tecan.com/d300e
Tags:
Date Published: 3rd June 2016
Source article link: View