North American Microbiome Congress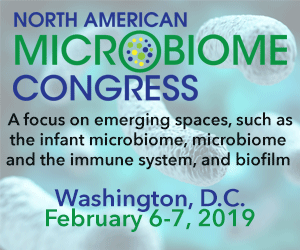 : 6 Feb 2019 - 7 Feb 2019
: Washington DC, United States
Sector: Clinical, Pharmaceutical
Type: Conference, Training
Translating academic research into clinically and commercially viable therapeautics.
New for 2019 the congress has three distinct streams:
1. Focused to your profile and needs
Academics progressing towards a functional understanding of the microbiome
Clinicians developing more targeted therapies and enhancing current medicine
Pharma Biotech, Clinicians, Academics: understanding how functional foods can be used as a preventative approach to improve healthcare.
2. Connect in person with the FDA - navigate through evolving guidelines
3. NIH collaberation - how to secure funding and strengthen your research pipelines
Details

Venue
Washington DC
United States