Microbiome Therapeutics US - Boston, USA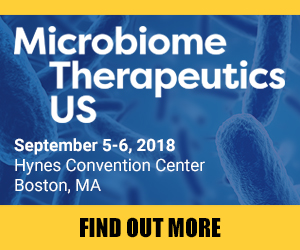 : 5 Sep 2018 - 6 Sep 2018
: Boston, United States
Sector: Clinical, Pharmaceutical
Type: Meeting
Microbiome Therapeutics US
brings together leading experts from across the human microbiome therapeutics field to explore the latest progress in finding the most effective route from microbiome drug discovery through to commercial success.
The meeting provides the ultimate platform to get involved in the latest discussions with like-minded professionals surrounding the latest clinical trials, manufacturing and scale-up challenges, funding solutions and commercialization strategies to take these products to market.
Join the likes of Flagship Pioneering, Siolta Therapeutics, Finch Therapeutics and many more to benchmark your end-to-end microbiome drug strategy with practical industry insights, case studies, shared experiences and lessons learned to help you stay ahead of the curve.
Plus, ensure you're up to date with the latest regulatory guidance with direct feedback from the FDA and seek out funding opportunities to take your pipeline to the next level.
Find out more:
Details

Venue
Boston
United States