Microbiome Movement - Drug Development Summit Europe 2019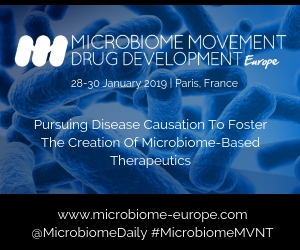 : 28 Jan 2019 - 30 Jan 2019
: Paris, France
Sector: Pharmaceutical
Type: Conference
Despite the scientific communities progress in translating microbiome R&D into promising therapeutic candidates, academic and pharmaceutical leaders continue to identify the causal role of the human microbiome in disease to create treatments with consistent clinical outcomes and predictable molecular mechanisms.
Part of the established Microbiome Movement the 3rd Microbiome Movement & Drug Development Europe returns as the industry-defining forum to help discover, develop and deliver the next generation of microbiome-based therapeutic and diagnostic candidates to market.
Recent breakthroughs in DNA sequencing, metagenomic analysis and computational techniques have given scientists new insight into the structure and function of the human microbiota, an interconnected community of symbiotic, commensal and pathogenic microorganisms. As valuable clinical data solidifies the importance of the human microbiome on human health and disease, recent efforts have sought to harness this research to create microbiome-based therapeutics.
Situated at the heart of therapeutic R&D, the Microbiome Movement & Drug Development Summit kick starts 2019, once again to help large pharma, biotech and academic institutions accelerate the discovery and clinical development of safe, effective and commercially scalable microbiome therapeutics across a broad range of disease indications.
Set to tackle the greatest scientific, regulatory, clinical, manufacturing and commercialisation challenges across the entire drug development value chain, this meeting will showcase leading industry case studies focused on enhancing the application of novel technologies to standardise results, accelerate target discovery and optimise the translation of microbiome research into safe and effective therapeutic products.