ESCV 2022 - 24th Annual Conference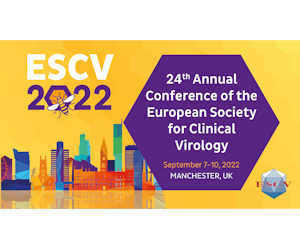 : 7 Sep 2022 - 10 Sep 2022
: Manchester, United Kingdom
Sector : Clinical
Type : Conference - In person
This meeting will be the first in-person meeting of ESCV since the pandemic began and provide a very welcome opportunity to think about and discuss all the many other interesting and important aspects of clinical virology that have been overshadowed by the attention-demanding coronavirus!
We will present an outstanding and balanced programme covering the most recent discoveries, innovations and state-of-the-art updates on current areas of interest to virologists.
Sessions will include the use of Next Generation Sequencing for virus discovery, Viral hepatitis, Emerging and re-emerging viral pathogens, Vaccines, Antivirals, Neurological viral infections, Immune response to viruses and of course SARS-CoV-2 and many other stimulating topics.
Details

Venue
Manchester
United Kingdom