Charles River Microbial Solutions LAL Workshop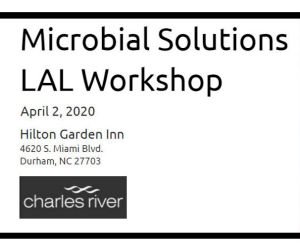 : 20 Feb 2020
: Durham, United States
Sector: Pharmaceutical
Type: Training, Seminar, Workshop
The Limulus Amebocyte Lysate (LAL) assay has proven to be the most sensitive and robust assay available for the detection of bacterial endotoxins. We have purposefully designed our one-day bacterial endotoxin testing seminar to educate and train analysts, technicians, and managers who use LAL methods for screening pharmaceuticals, medical devices, and raw materials. Attendees will gain an in-depth understanding of available methodologies and new technologies needed to help you alleviate everyday internal and industry budget, timing, and training challenges and to improve your lab's efficiency and streamline your manufacturing process.
We've structured the agenda to focus on hands-on usage of the Endosafe® FDA-licensed cartridge technology and presentation topics addressing frequently occurring issues encountered in endotoxin testing, including resolving interference, OOS investigations, calculations, and product validation. Our technical experts will be available throughout the day to answer any process and product-specific questions.
You will gain valuable insights on:
How to decrease retest rates and variability with rapid testing methods
Learn about testing interference and how to resolve issues with the LAL assay.
Understand how to conduct meaningful LAL laboratory investigations and get to the root cause of lab investigations.
How and when to perform various BET calculations.
Details

Venue
Durham
NC
United States