24h Specific Detection of E.coli O104:H4 with New CHROMagar STEC-O104 Supplement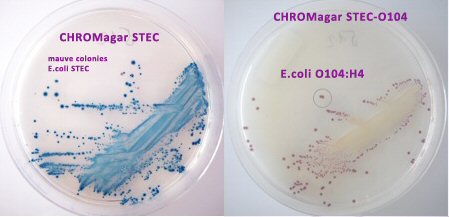 In order to help the laboratories in charge of the E.coli O104 outbreak control in Germany, Dr Rambach, head of CHROMagar, developed in only a few days a supplement to be added to the CHROMagar STEC, to make it highly specific for the strain causing the outbreak. This novel combination was evaluated in collaboration with Dr. Lothar Beutin, from the German Reference Laboratory for E.coli.

As can be seen in the photos, from a contaminated sprout seed sample, CHROMagar STEC-O104 suppresses the growth of background flora, and EHEC O104:H4 becomes readily visible as the dominating bacteria (mauve colonies). Pictures taken by Dr Lothar Beutin, National Reference Laboratory for Escherichia coli (NRL-E.coli) Berlin, Germany.

CHROMagar company is now able to provide a selective kit, CHROMagar STEC & CHROMagar STEC-104 supplement for this specific outbreak strain.

Ordering Reference for the 1000ml pack: ST160 + OG2011


Contact your local distributor on
www.chromagar.com/contact.php


Back in Time…
In 2009, Dr Rambach designed CHROMagar
TM
STEC to detect a wide range of Shigatoxin-producing
E.col
i (STEC). STEC grow in mauve colony color while other bacteria will grow in blue, colourless or are inhibited colonies, making this medium an excellent screening tool. In 2010, with this medium, Dr Lothar Beutin settled a simple method of detection of the dangerous STEC.
In May 2011, a new
E.coli
strain O104:H4 appeared in North of Germany. The collaboration with Dr Beutin was intensified and allowed Dr Beutin to isolate
E.coli
O104:H4 on CHROMagar STEC.

Who is Dr A. Rambach ?

Dr Alain Rambach, started his scientific career as a researcher at Pasteur Institute and pioneered genetic engineering in 1973. In 1979, he invented chromogenic media technology and a few years later founded the CHROMagar company, based in Paris.
NOTE: This item is from our 'historic' database and may contain information which is not up to date.