2nd Generation ATP Monitoring Products from LuminUltra: Making HACCP-style Water Management Programs a Reality
The measurement of ATP (Adenosine Triphosphate) is the #1 method for measuring microbial contamination in food processing and hygiene applications. The majority of all Hazard Analysis Critical Control Points (HACCP) programs rely on the measurement of ATP. It provides a real-time indicator of total microorganisms to confirm quality control practices for shorter production cycles and reduced risk of product recall.


| | |
| --- | --- |
| | Now, with the advancements made in LuminUltra's 2nd Generation ATP Monitoring Technology, it is possible to bring the same best practice to any type of water treatment or distribution system. With dramatically increased reliability and versatility, LuminUltra's ATP monitoring products are the ideal tool for real-time total microorganism measurement in the World Health Organization-endorsed Water Safety Plan (WSP), a process which is functionally identical to HACCP programs. |
Total microbiological concentration is a fundamentally important characteristic for any water sample, whether for protecting drinking water quality, controlling the application of biocides, or operating wastewater treatment processes. This characteristic can have implications on product quality, operating costs, equipment integrity, and public health in any water system. Whatever your application, LuminUltra has a test kit to fit your needs!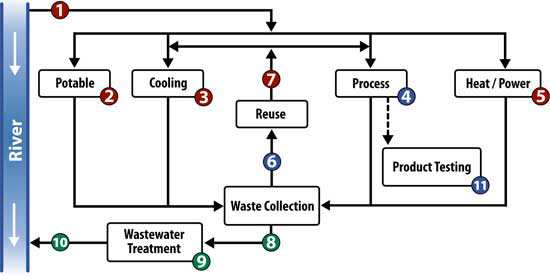 Each number of this diagram represents a different type of process where LuminUltra's products can be used (View PDF for more description). LuminUltra's products can be used to monitor and control total microorganisms in any water system for a variety of purposes:

1. Routine audit and control of water treatment process equipment
2. Management and maintenance of water distribution networks
3. Continuous monitoring and protection of water used for manufacturing purposes

What makes this possible? LuminUltra has performed extensive research and development to build the ideal measurement system for water, with a variety of game-changing features:


Fully Optimized: Tailored to the unique needs of water and wastewater to eliminate interferences and enzyme inhibition through advanced reagent compositions.

More Accurate: Representative sampling and maximum ATP recovery for 10x or greater accuracy compared to conventional methods.

Wide Detection Range: High sensitivity allows measurement in any water type, from ultra pure water to wastewater and everything in between!

Better Precision: Measures true extracellular ATP rather than only free ATP for improved living organism assessment and biocide response.

Fully Quantitative: Liquid-stable ATP standard for positive control ensures that results are comparable from day-to-day and site-to-site.

Extremely Flexible: Reagents are stable for months and can be used on nearly any Luminometer, while LumiCapture software provides for data calculation and trending

LuminUltra's ATP monitoring products represent the best combination of reliability, ease-of-use, and real-time indication of total microbiological concentration and health available on the market today. If you are looking to save money, increase reliability, protect your capital investment, or just expand and improve your microbiological measurement capabilities, the LuminUltra Difference can work for you!

If you would like more information on LuminUltra's ATP products, for North America please contact LuminUltra (contact details are at the top of this page) or for Europe, contactAquatools or click the 'request more information about this news item' option below.


NOTE: This item is from our 'historic' database and may contain information which is not up to date.