Mast Launches New AmpC Detection Set
Mast have launched a NEW AmpC Detection Set, the latest innovative product in its hugely successful multi-resistance detection portfolio. The complexity of newer Ss-lactamase enzymes and their detection represents a major challenge in healthcare settings. With limited prospects for new antibiotic development to target resistant Gram negative infections, there is now more pressure than ever to confirm resistance mechanisms to deliver effective antibiotic management policies.

Unlike many other commercially available products, Mast's AmpC Detection Set detects both plasmid and intrinsic chromosomally encoded AmpC enzymes (see Fig.1), encompassing inducible, derepressed and hyperproduced strains to provide a comprehensive, reliable and cost-effective test.

This simple 3-disc system is provided in a convenient cartridge format, compatible with Mast's DiscMaster™2 dispenser, streamlining work flow and aiding rapid integration into routine laboratory testing.

Mast´s AmpC Detection Set offers laboratories an easy to interpret, definitive test to accurately determine the presence of an AmpC producer, which can be used to complement Mast´s AmpC & ESBL Detection Set, or as a standalone test: thus supplementing Mast´s existing ESBL portfolio.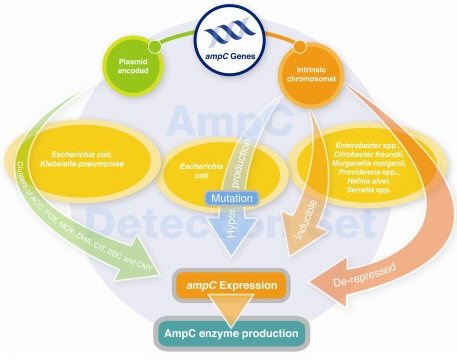 Fig.1



For further information please contact sales@mastgrp.com

NOTE: This item is from our 'historic' database and may contain information which is not up to date.