Quality controlled cultivation of Oxygen sensitive bacteria
Anaerobic Microbiology: How automating old principles can improve efficiency and reliability

Anaerobes play a key role in clinical diseases. Therefore anaerobes are grown for research in a large number of laboratories around the world. Who wants to cultivate micro-organisms in an oxygen-depleted atmosphere uses anaerobic jars, a cabinet, or a CO2 incubator, the conservative methods with many disadvantages like late discovery of faulty jars or gaspacks, slow achievement of anaerobiosis and chemical waste. The space occupying chambers, consuming large quantities of gas, have to be serviced at high cost, at the wrong moment, and still offer no way to cultivate micro-aerophilic and anaerobic organisms at the same time.

It's been proven that the evacuation and replacement method of MacIntosh & Fildes is the most efficient way to create an anaerobic, a micro-aerophilic, or a CO2 enriched condition, shutting out above disadvantages.

Mart Microbiology B.V. has perfected this method in the ANOXOMAT system. A quality assurance program guarantees the user BEFORE incubation that he will achieve optimal conditions and thus better results. The system creates anaerobic or micro-aerophilic conditions in an anaerobic jar. The entire process is controlled by microprocessor.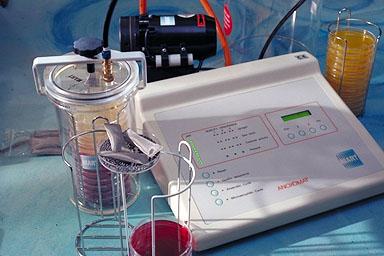 The Anoxomat-System: Usage of the Anoxomat in laboratories
Originally, the Anoxomat was designed to fit into what is called the 'Anaerobic Culture Chain' in medical research. Over the years, others also became aware of the advantages and efficiency of the Anoxomat, which has now found widespread application in a great many sectors.

Apart from the microbiological departments of laboratories in hospitals, universities, veterinary institutes and the biotechnological sector, it is also used in the pharmaceutical and petrochemical sectors. Food, drink and water companies also have a special interest in this kind of research as food-spoiling bacteria are mostly anaerobic or micro-aerophilic.

The system is now widely used and was tested by many well-known scientists in anaerobic microbiology, like the American Dr. S.M. Finegold and in Britain by Dr. J. Brazier. Microbiologists all over the world are familiar with the Anoxomat and recognise its considerable advantages compared to other methods. Comparisons between the Anoxomat system and other methods have been carried out at internationally recognised institutes. In all cases the Anoxomat produced superior results.
NOTE: This item is from our 'historic' database and may contain information which is not up to date.