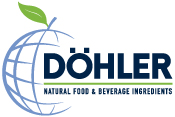 Döhler
Döhler is a global producer, marketer and provider of technology-based natural ingredients, ingredient systems and integrated solutions for the food and beverage industry.
Address D-64295 Darmstadt
Germany
Website
Email
Telephone
+49(0)6151/306-0
Döhler's integrated approach and the broad product portfolio are the optimal basis for innovative and safe food & beverage applications. The product portfolio ranges from flavours, colours, health & nutrition ingredients, cereal ingredients, dairy ingredients, speciality ingredients, fruit & vegetable ingredients to ingredient systems.
Headquartered in Darmstadt/Germany Döhler has 23 production sites, 48 sales offices and application centres as well as sales activities in over 130 countries. More than 4,000 dedicated employees provide our customers with fully integrated food & beverage solutions from concept to realisation.
"WE BRING IDEAS TO LIFE." briefly describes Döhler's holistic and strategic approach to innovation. This comprises market intelligence, trend monitoring, the development of innovative products and product applications, advice on food safety and microbiology, food law as well as Sensory & Consumer Science.
Under the Döhler Microsafety Design® (DMD®) brand, Döhler provide dedicated culture media solutions for microbial detection in almost every segment of the beverage and brewing industry. The portfolio comprises read-to-use culture media for: water analysis, detection in non-alcoholic and alcoholic beverages, the validation of aseptic filling lines as well as hygiene monitoring.
View All Product News
Microbiology Product Areas