MIC-UNV Universal Water Microbe Cocktail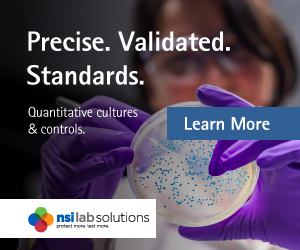 Principle: Microbiological certified reference material
Automation: No
Suitability: Microbiological testing
Capital equipment required: No
Description:
Available exclusively from NSI Lab Solutions, A single pellet to QC all of your quantitative microbiology analyses! Formulated in our unique lyophilized flash dissolve pellet this microbiological standard contains multiple organisms that in aggregate allow the analyst to QC the following water microbiology tests at the following approximate activity levels:
Test, Activity Levels: (Total Coliform, 2400 CFU/100mL), (E.coli, 1000 CFU/100mL), (Fecal Coliform, 500 CFU/100mL), (P. aeruginosa, 1000 CFU/100mL), (Enterococci, 1000 CFU/100mL), (HPC, 50 CFU/mL).
Key Points:
Manufactured under ISO 17034 and tested under 17025 accreditations.
Supplied in packs of 10 or 20 individually packaged pellets in vacuum-sealed glass vials.
Stores at -20C to -10C.
Product shelf life of 18 months post-manufacture date.
Company contact details:
NSI Lab Solutions
view full details
Raleigh
NC
United States
Website:
Visit Website
Tel: +1 919-789-3000