SmartControl EM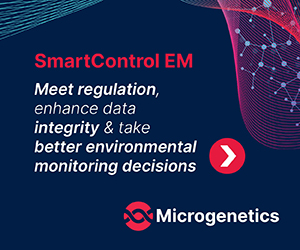 Principle: Environmental monitoring software to help you meet regulation, enhance data integrity and take better environmental monitoring decisions
Automation: No
Approvals: ISO 9001
Suitability: Sterile manufacturing & research environments
Capital equipment required: No
Description:
Environmental monitoring software to help you meet regulation, enhance data integrity and take better environmental monitoring decisions
Key Points:
Confidence - Would you like to be 100% sure that your environmental monitoring data is accurate, up to date and in line with necessary regulations? With SmartControl EM, breach alerts are timely and reliable, so you can make smart, effective decisions to resolve issues quickly. Giving you one less thing to worry about in between breaches.

The system is designed to meet all the ALCOA+ principles of data integrity. By being paperless and cloud based, with an immutable audit trail of sample data and photos, you can regain trust in the accuracy of your EM data.
Value - Boost the real and perceived value of QC operations with data that is reliable, up to date, easily accessible, auditable and actionable.
Automated and customisable reporting and analysis tools give you deep insights and information when you need it.
Convenience - Take the stress out of your EM with easily accessible, secure cloud-based data. Testing and validation are completed for you by our team, with the aim to have you up and running in just 6 weeks. With no upfront charges and just a single monthly payment, the costs are transparent, and you can scale up or down when needed.

Ensure successful implementation and happy users with full customer support. Including a dedicated account manager, comprehensive validation documentation, complete training material, 2 onsite onboarding days, all feature updates & bug fixes, all software & server maintenance
Compliance - Ensure your environmental monitoring processes are delivering viable data and actionable insights to keep you compliant. With an ISO 9001 Certification, SmartControl helps you meet all the ALCOA+ principles of data integrity. It has been built in line with GMP Annex 11 & CFR part 11 and will continue to be developed alongside evolving regulatory frameworks, at no extra cost to you.
Efficiency - Save time and boost productivity in your lab by switching to a paperless system and cutting out the manual error-prone transcription steps. Ensure no samples are missed or accidentally duplicated using the easy scheduling tool.

You'll lose no time in addressing critical issues in your cleanrooms and have all the data to hand right away with the instant trend and breach alerts.