FMPT-005 Qualitative Pathogens Set Matrix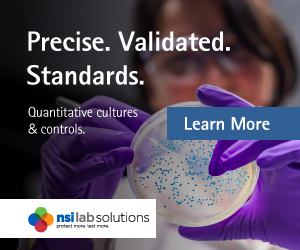 Principle: Microbiological proficiency testing
Automation: No
Approvals: ISO 17043
Suitability: Microbiological proficiency testing
Capital equipment required: No
Description:
A unique three sample set for qualitative identification of Salmonella enterica, Listeria monocytogenes, and Escherichia coli O157:H7. Report present or absent for each target organism. Three different series available per study. Four PT studies are available per year. Sterile hydration fluid is included. Manufactured under ISO 17043 by NSI Lab Solutions, an internationally recognized manufacturer of proficiency tests and certified reference materials.
Key Points:
Each PT set is provided with accompanying sterile hydration fluid.
Choice of 3 matrices available: Buffer Solution, Meat Matrix, or Dairy Matrix.
Stores at -10C to -20C.
Company contact details:
NSI Lab Solutions
view full details
Raleigh
NC
United States
Website:
Visit Website
Tel: +1 919-789-3000