FM-750 Microbe Cocktail with Yeast, Mold, and B. cereus Certified Reference Material for 3M® Petrifilm™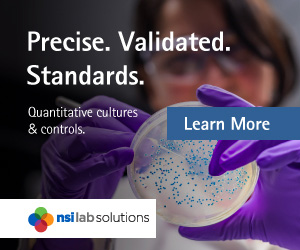 Principle: Microbiological certified reference material
Automation: No
Suitability: Microbiological testing
Capital equipment required: No
Description:
Available exclusively from NSI Lab Solutions, this multiple organism blended CRM is designed for use with 3M Petrifilm, other re-hydratable film methods, and BAM methods. You can QA 8 indicator test parameters with a single lyophilized pellet: APC, Total Coliforms, E. coli, Enterobacteriaceae, S. aureus, Yeast, Mold, and B. cereus. Economical to use: the cost is <$2 per parameter. Easy: after initial hydration no further dilution needed. See our demonstration video on our YouTube channel.
Key Points:
Compatible with 3M Petrifilms and other rehydratable film methods.
Easy to Use: after initial hydration, no further dilution needed to produce method countable ranges for all target microorganisms.
Available in packs of 10 or 20 individually packaged pellets in vacuum-sealed glass vials.
Stores at -20C to -10C.
Product shelf life of 18 months post-manufacture date.
Manufactured and tested under ISO 17034 and 17025 accreditations.
Company contact details:
NSI Lab Solutions
view full details
Raleigh
NC
United States
Website:
Visit Website
Tel: +1 919-789-3000