Listeria Testing Kits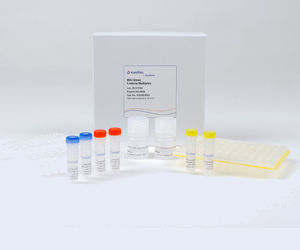 Principle: Real-time PCR or ELISA protein assay
Automation: Yes
Approvals: The majority of Eurofins Genescan Technologies Listeria kits are certified by internationally recognized organizations such as AFNOR and AOAC.
Suitability: Low to high throughput food, feed and environmental pathogen detection
Capital equipment required: Yes
Description:
The fast and reliable detection of the foodborne pathogen Listeria is essential for protecting the health of customers. Eurofins GeneScan Technologies offers both real-time PCR (BACGene Listeria) and ELISA (BACSpec Listeria) kits for both Listeria monocytogenes and Listeria spp. as well as a real-time PCR multiplex kit for the efficient parallel detection of both types in a variety of raw and processed food, feed (including pet food) and environmental samples.
Key Points:
Real-time PCR (BACGene)
Substantially faster results than the classical detection method
Reliable and sensitive detection
Flexible kit design allows for testing of low to high throughput sample volumes
Includes:

Evaluation software for easy evaluation and documentation of results
IPC (internal positive control) for amplification control

Validated for Agilent AriaMx and Bio-Rad CFX96 TouchTM and TouchTM Deep Well cyclers
ELISA (BACSpec)
48h analysis
Very simple handling
Small footprint of laboratory equipment
Company contact details:
Eurofins GeneScan Technologies GmbH
view full details
79108 FREIBURG
Germany
Website:
Visit Website
Email: kits@eurofins.com
Tel: +[49] 761 5038 200