UD-7973 Unit Dose™ Listeria monocytogenes Certified Reference Material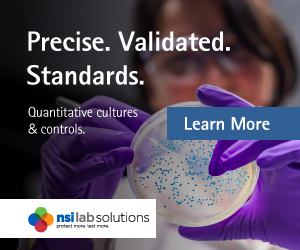 Principle: Microbiological certified reference material
Automation: No
Approvals: ISO 17034, ISO 17025
Suitability: Microbiological testing, Media Validation, Growth Promotion Testing, Growth Inhibition Testing, FDA BAM, USDA MLG
Capital equipment required: No
Description:
Unit Dose™ cultures are formulated to deliver less than 100 CFU per pellet. Directly inoculate media without dilution. Quantitatively validated and traceable cultures are certified reference materials with a downloadable certificate of analysis on our website. The lyophilized culture is preserved in our proprietary Microgel-Flash™ quick dissolve matrix. Sold in packs of 10 individually vacuum sealed microorganism pellets.
Key Points:
Pellets dissolve instantly once hydrated.
Each pellet delivers <100 CFU of Listeria monocytogenes.
Manufactured and tested under ISO 17034 and 17025 accreditations.
Stores in the freezer -20°C to -10°C.
Product shelf life of 18 months post-manufacture date.
Company contact details:
NSI Lab Solutions
view full details
Raleigh
NC
United States
Website:
Visit Website
Tel: +1 919-789-3000