Legionella pneumophila SG1-15 Separation Kit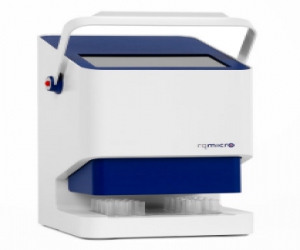 Manufacturer: rqmicro AG
Principle: Immunomagnetic separation of cells
Automation: YES
Suitability: Medium to high throughput water testing laboratories
Capital equipment required: Yes
Description:
rqmicro developed this highly specific kit to simplify, accelerate and improve the detection of
Legionella pneumophila
SG1-15 in complex water samples, e.g. cooling tower and industrial samples. The separation kit efficiently isolates
Legionella pneumophila
SG1-15 target cells and at the same time eliminates more than 95% of the competing flora. It thus enables reliable and conclusive results when cultivating cells on agar or using other methods of downstream analysis. The kits are also available in the
PLUS
option to meet the increased requirements for the precise and reliable analysis of complex water samples e.g. from cooling towers.
Key Points:
Tailored to complex matrices such as industrial cooling tower or environmental water samples
Elimination of 95% – 99% of the competing flora
No potentially detrimental acid or heat treatment needed
Reliable results on agar plates
Company contact details:
rqmicro AG
view full details
Switzerland
Website:
Visit Website
Tel: +41 44 512 51 51