GeneDisc® Technologies for Listeria Detection in Food and Environmental Samples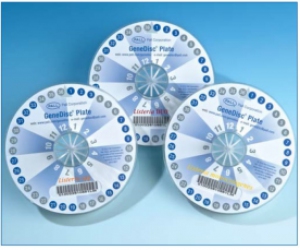 Image courtesy of Pall Corporation
Manufacturer: Pall Corporation
Principle: qPCR
Automation: Semi-Automated
Approvals: NF Validation; AOAC
Suitability: Small to high throughput laboratories
Capital equipment required: Yes
Description:
Pall GeneDisc Technologies provides solutions for food processors in need of a reliable control of L. monocytogenes and/or Listeria spp. risk.
Key Points:
Rapid — Accelerate your control workflow and achieve fast release of short shelf life products and testing of raw materials. While other methods such as immunoassays or culture methods (chromogenic media) require up to 3 days to get a result, Pall's GeneDisc method allows detection of Listeria in as fast as 20 hours.
Easy to use — GeneDisc solutions are designed for routine use. Implementing PCR (Polymerase Chain Reaction) has never been this easy.
Modular — System modularity fits your throughput needs: up to 96 samples can be analyzed in a one hour PCR run.
Adaptive to testing needs – Simultaneous or individual testing solutions for L. monocytogenes and Listeria spp. detection are available with same hands-on time and enrichment.
Simplified identification - Directly identify a colony in less than 1 hour with ListeriaID assay.