GeneDisc® Technologies for Legionella Detection and Quantification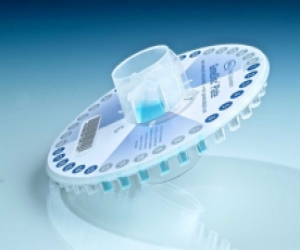 Image courtesy of Pall Corporation
Manufacturer: Pall Corporation
Principle: q PCR
Automation: Semi-automated
Approvals: NF Validation
Suitability: Small to high throughput laboratories
Capital equipment required: Yes
Description:
Pall's GeneDisc Rapid Microbiology System enables quantification of Legionella within 3 hours for any type of water sample (potable water, cooling tower, sludge). Rapid and reliable results enable infection control experts, shower water, hospital water and water network managers to make quick and effective decisions on appropriate water disinfection measures. Mapping water system networks with the GeneDisc system identifies and targets contaminated pipework and water points. Monitoring these critical points within a 3 hour turnaround time allows real time Legionella risk management, rapid maintenance actions, and minimizes the risk for patients and public environment. Real-time PCR monitoring with the GeneDisc system reduces environmental burden and down-time costs. Available applications include:
Identification of colonies on agar plates for Legionella spp and Legionella pneumophila simultaneously
Quantification of Legionella pneumophila in water samples
Quantification of Legionella spp in water samples
Simultaneous quantification of Legionella spp and Legionella pneumophila
Quantification tests are designed to comply with the AFNOR NF T90-471 and ISO /TS 12869 standard.
Key Points:
Real-time detection of contamination
Easy for routine use
Minimizes operator intervention
Automated read-out ensures fast decision making
Broad approach for Legionella risk assessment
Eliminates manual tracking and recording of test results