GeneDisc® Rapid Microbiology System for STEC, EHEC and Pathogenic E. coli O157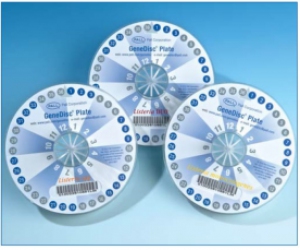 Image courtesy of Pall Corporation
Manufacturer: Pall Corporation
Principle: qPCR
Automation: Semi-Automated
Approvals: NF Validation, AOAC
Suitability: small to high throughput food testing labs
Capital equipment required: Yes
Description:
Pall GeneDisc Technologies provides flexible approaches for food processors in need of a reliable control of STEC and/or pathogenic Escherichia coli O157 risk:
GeneDisc pathogenic E. coli O157 solution is in line with MLG 5 and ISO 16654 methods. Screening method based on detection of virulence factors for pathogenicity (shigatoxin and intimin) provides a lower rate of presumptive positive.
GeneDisc STEC and EHEC solution enables a workflow in line with MLG 5B and ISO/TS 13136 standards. With this method, a systematic screening based on virulence factors allows to discriminate pathogenic strains from non-pathogenic ones. If result is positive, an identification of the relevant serogroups is performed.
The unique GeneDisc STEC Top 7 solution is a one-step testing method, which combines virulence factors and serogroups detections, after an enrichment as short as 10 hours. It greatly reduces presumptive positive prevalence rate compared to other methods and enables accelerated batch releases. This easy-to-use solution was developed to answer food industries needs for a cost-effective and accurate screening of pathogenic STEC.
Key Points:
Rapid — Accelerate the batch release of your short shelf life products and raw materials. While other methods such as immunoassays or culture methods require up to 3 days to results, the Pall's GeneDisc method allows a detection of STEC in as fast as 10 hours.
Easy to use — GeneDisc solutions are designed for routine use. Implementing PCR (Polymerase Chain Reaction) has never been this easy.
High throughput capability — Process up to 96 samples DNA extractions simultaneously in less than one hour.
Modular — System modularity fits your throughput needs: up to 96 samples can be analyzed in a one hour PCR run.
Adaptive to testing needs – Flexible solutions matching various needs for a reliable monitoring of STEC.
Test Salmonella spp. simultaneously – Analysis with Salmonella spp. is available for GeneDisc pathogenic E. coli O157 and STEC methods and does not require any additional hands-on time nor enrichment.