Free Samples! WESAIL COVID-19 CE-Marked 15 Min Antigen Test Kit (Awaiting FDA-EUA)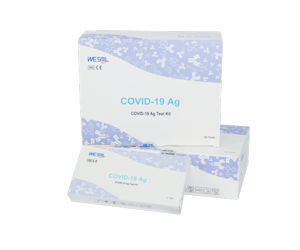 WESAIL Biotech COVID 19 CE-Marked 15 Min Antigen Test Kit
Principle: Colloidal gold-based COVID-19 antigen (SARS-CoV-2 N-proteins) detection.
Automation: No
Approvals: CE-IVD, TUV ISO 13485 and Awaiting FDA-EUA
Suitability: Detection in the incubation period; Early diagnosis; Infection stage evaluation; COVID-19 outbreak and epidemic control.
Capital equipment required: No
Description:
This product is used for the rapid detection of SARS-CoV-2 N-proteins in nasopharyngeal/nasal swab and viral transport media samples. It indicates infections in the incubation period and early stage of the disease. Performances are above international standards with 90% sensitivity, 98% specificity, and LoD in 8x102 TCID50/mL. Detection can be completed in simple steps with 15 min to result. Individual and 20 test packages are available for different settings. 
Sign up via WESAIL Ag Test Kit today for free samples!
Key Points:
90% sensitivity & 98% specificity
LoD = 8x102 TCID50/mL
Result in 15 min
Rapid detection of SARS-CoV-2 N-protein
Indication of acute & early infections
For nasopharyngeal or nasal swabs and viral transport media samples
Individual & 20 test packages available for different applications
Use with WESAIL COVID-19 IgM/IgG Antibody Test for a more comprehensive diagnosis
Company contact details:
Guangdong WESAIL Biotech Co., Ltd.
view full details
Songshan Lake, Dongguan, Guangdong
China
Website:
Visit Website
Tel: +86-769-22890969