foodproof® Salmonella spp. Detection Kit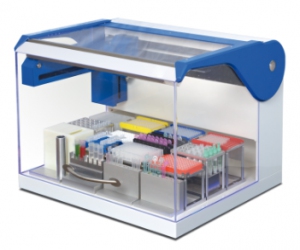 Manufacturer: BIOTECON Diagnostics GmbH
Principle: Magnetic beads help DNA extraction followed by real-time PCR
Automation: Yes
Approvals: MicroVal, AOAC, NordVal
Suitability: suitable for medium to high volume food pathogen testing
Capital equipment required: Yes
Description:
For rapid and reliable detection of
Salmonella
, the foodproof® Salmonella spp. detection kit from BIOTECON Diagnostics combines real-time PCR products with a full automation option.
Key Points:
DNA is extracted from sample enrichments using magnetic beads technology, reducing any inhibitors that may be present in the sample matrix.
Every automated run is easily started using a validated, predefined protocol
Barcode scanning of samples and reagents means data is fully traceable
Detects down to 1-10 cells per 25 g sample with unmatched inclusivity,
No false-negative results found from testing 700 different Salmonella strains.
Company contact details:
BIOTECON Diagnostics GmbH
view full details
Potsdam
Germany
Website:
Visit Website
Tel: +49(0) 331 2300 200