Endotoxin Indicator Vials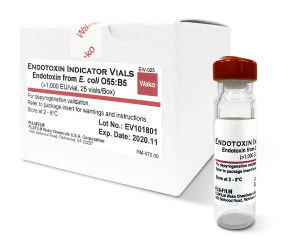 Principle: Indicator organism for the validation of processes with respect to endotoxin inactivation or destruction.
Automation: No
Capital equipment required: No
Description:
The Endotoxin indicator vials are ready-to-use vials composed of E. coli O55:B5 (>1000 EU/vial) for performing depyrogenation validation studies to ensure that a process is effectively inactivating and/or destroying endotoxin. These vials may be tested using reagents from our PYROSTAR™ ES-F series.
Key Points:
E. coli O55:B5 (>1000 EU/vial)
Ready-to-use vials, no preparation needed
Used for validation studies
To find out more use the green "request more information" button below.
Company contact details:
FUJIFILM Wako Chemicals U.S.A. Corporation
view full details
North Chesterfield
VA
United States
Website:
Visit Website
Tel: +1 804-714-1926